*Information directly from the City's HB Ready website*
Today, the City of Huntington Beach announced the launch of its OneHB Business Support Campaign, which is a community campaign that will provide $5,000 micro-grants to help certain small businesses keep their doors open during and after COVID-19. The micro-grants may be used for payroll, rent/lease payments, utilities, inventory and other approved operational expenses.
In support of the program, Robert Mayer, Sr. donated $100,000 towards the OneHB Business Support Campaign. Mr. Mayer developed the landmark Waterfront Hilton and the Hyatt Regency Huntington Resort and Spa, which helped establish Huntington Beach as a major tourism destination. Mr. Mayer's donation of $100,000 will translate into the issuance of 20 micro-grants of $5,000 each for eligible small businesses located in the Resort District.
Donate, buy merchandise, and buy a yard sign to help support our businesses.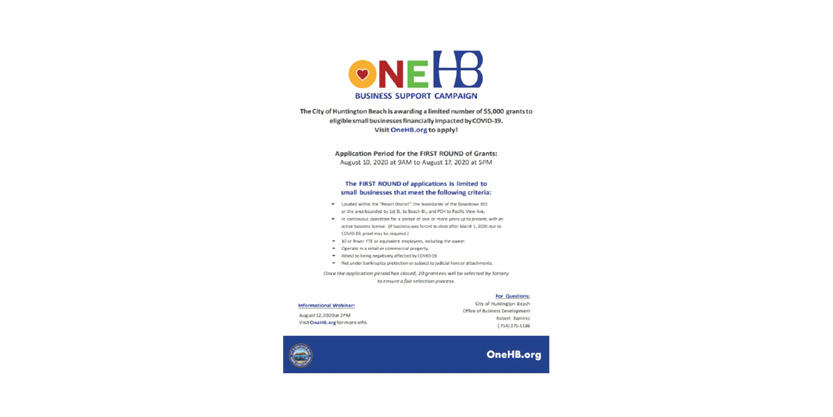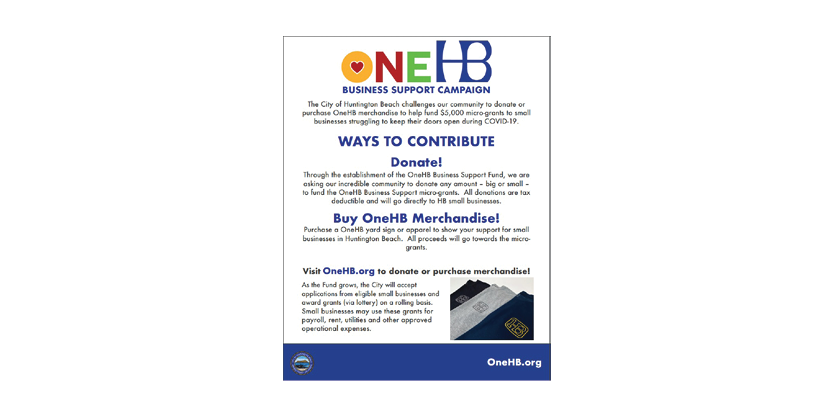 To apply for the first round of 20 grants, applicants must own a small business located in the Resort District and meet all eligibility requirements listed on www.OneHB.org.
As additional contributions of up to $25,000 are received, the City will invite all qualified small businesses citywide to apply in future rounds.
All donations will be tax deductible and made directly to CIELO, which is administering the grant payments on behalf of the Campaign.
Furthermore, the City anticipates evaluating and awarding all 20 grants before the end of August 2020. Visit OneHB.org to apply!
Informational Webinar for First Round of Applicants:
August 12, 3:00PM
Application period for the First Round of Grants:
August 10, 2020 at 9AM
to August 17, 2020 at 5PM
For the full press release, click here.